Marketing Trends We Will See in 2023: Sustainability and AI
In the age of sustainability and eco-conscious consumers, companies and brands are aiming to reduce their carbon footprints and become active stewards for socially responsible corporate programs.
Artificial intelligence may seem like futuristic technology, but companies from small start-ups to large corporations are already using AI tools, cloud technology and machine learning to become more efficient.
Bratin Saha, vice president of machine learning services at Amazon, says, ​​"It's important to get started. You can do that now by moving your data assets to the cloud, unifying those assets and then using AI to detect patterns in those data that allow you to make smarter business decisions."
Why Companies Are Becoming More Sustainable
Consumers choose to work with brands and companies that are focused on sustainability.
Harvard Business School reports that 77% of consumers are motivated to purchase from companies committed to making the world a better place, while 73% of investors state that efforts to improve the environment and society contribute to their investment decisions.
Additionally, a 2019 Aflac study cites that a majority of American consumers (55%) believe it's important for companies to take a stand on key social, environmental and political issues.
It is no surprise that companies that embrace corporate social responsibility policies have more positive consumer and investor relations.
Some industries that are paving the way to a more sustainable and eco-friendly world include energy, manufacturing, agriculture, transportation logistics, health care and medtech.
How Companies Are Using AI To Reduce Their Carbon Footprint
Emerging technologies like artificial intelligence, predictive analytics and the cloud provide industries with powerful tools to reduce energy usage and emissions.
"The cloud helps you collect, store and process that data at very low cost, and then you use AI and machine learning to gather insights," Saha says. "Ultimately, you're becoming a lot smarter in your decisions, which translates into greater opportunities to realize those efficiencies."
Transportation logistics is a huge industry that is using AI to predict product demand by location to improve distribution networks.
Every year, truckers in the United States travel more than 95 billion highway miles, but 40% of those miles are done with an empty truck, representing a costly waste of time and fuel, the Washington Post reports. AI can help plan for the efficient use of cargo space in both directions.
Many manufacturing companies are using AI to improve their facility operations by using sensors to gather data that monitor ventilation, heating and AC systems in their facilities. Then these systems can be adjusted automatically, instead of waiting for human interaction.
Additionally, energy companies can use data collected from wind turbines to run simulations and improve operations and maintenance.
Our Work with Sustainable and Environmentally Friendly Brands
Not every company is positioned to invest in expensive cloud technology to address its sustainability goals on a mass scale. A reasonable starting point uses martech to position sustainable messaging through content development, social media platforms, SEO, paid media and more.
Here are just a few ways Jennings Social Media & MarTech has been able to position its clients for success.
Emerald Praire Health is a company dedicated to providing products that make for a cleaner, safer and healthier world. We began working with its founders almost a decade ago when they created a company called LaserCycle to recycle used ink cartridges and reduce landfill waste.
Working alongside and learning from Rick Krska and Brad Roderick as they found ways to help save our planet has been incredibly rewarding. We've been thrilled to create content, video marketing, email campaigns, advertisements and more to drive growth for this sustainable company.
"We have worked with Valerie and her team on multiple projects for more than a decade. They bring the best and most current knowledge, insights and tools available. I can't recommend them enough as a partner!" Roderick said.
Sustainability has taken a backseat in the last few years as companies focused on navigating the pandemic and remote work. Balancing budgets and our health and safety became the primary focus. 
Before this shift, sustainability and philanthropy were the priority. Consumers viewed brands that invested in the greater good of society as having a more valuable product or service and they were willing to pay more for it. Even during times of economic downturn, these companies are preserved. Finally, we are seeing a shift back to sustainability.
Geofencing and Digital Marketing for Sustainable Brands
Our team increased tradeshow booth traffic and new sales contacts using geofencing for Emerald Prairie Health, which created a nontoxic surface cleaner that is safe for people, plants and pets.
In June, its employees attended the Building Owners and Managers Association (BOMA) International conference in Nashville. They wanted to increase booth traffic as well as generate new sales contacts. Our team created engaging geofencing video ads and virtually fenced the tradeshow to drive traffic with a giveaway. The ads were successful and exceeded industry benchmarks. The initial video ad ended with an $8 CPM (cost per mille, or cost per 1,000 impressions), while the industry benchmark ranges up to $15. 
For 12 days after the show,  we launched an additional retargeting video ad with an exclusive offer for show attendees. The second ad also achieved a CPM of $8 — significantly better than the benchmark. Together, these ads received more than 45,000 impressions with a budget of less than $400.
The client reported an increase in traffic and new contacts compared to other shows. The video we employed for this campaign received nearly 30,000 views.
Sustainable Facilities and Industrial Workplaces
This September, IFMA's World Workplace shined the spotlight on facility managers' shift from purely operational to indispensably strategic. The workplace and those who support it have undergone a decade of progressive, wide-reaching change in just two years because of the pandemic. Facility management is at the center of this extraordinary transformation, leading the business world into a safer, smarter, more sustainable and inclusive future.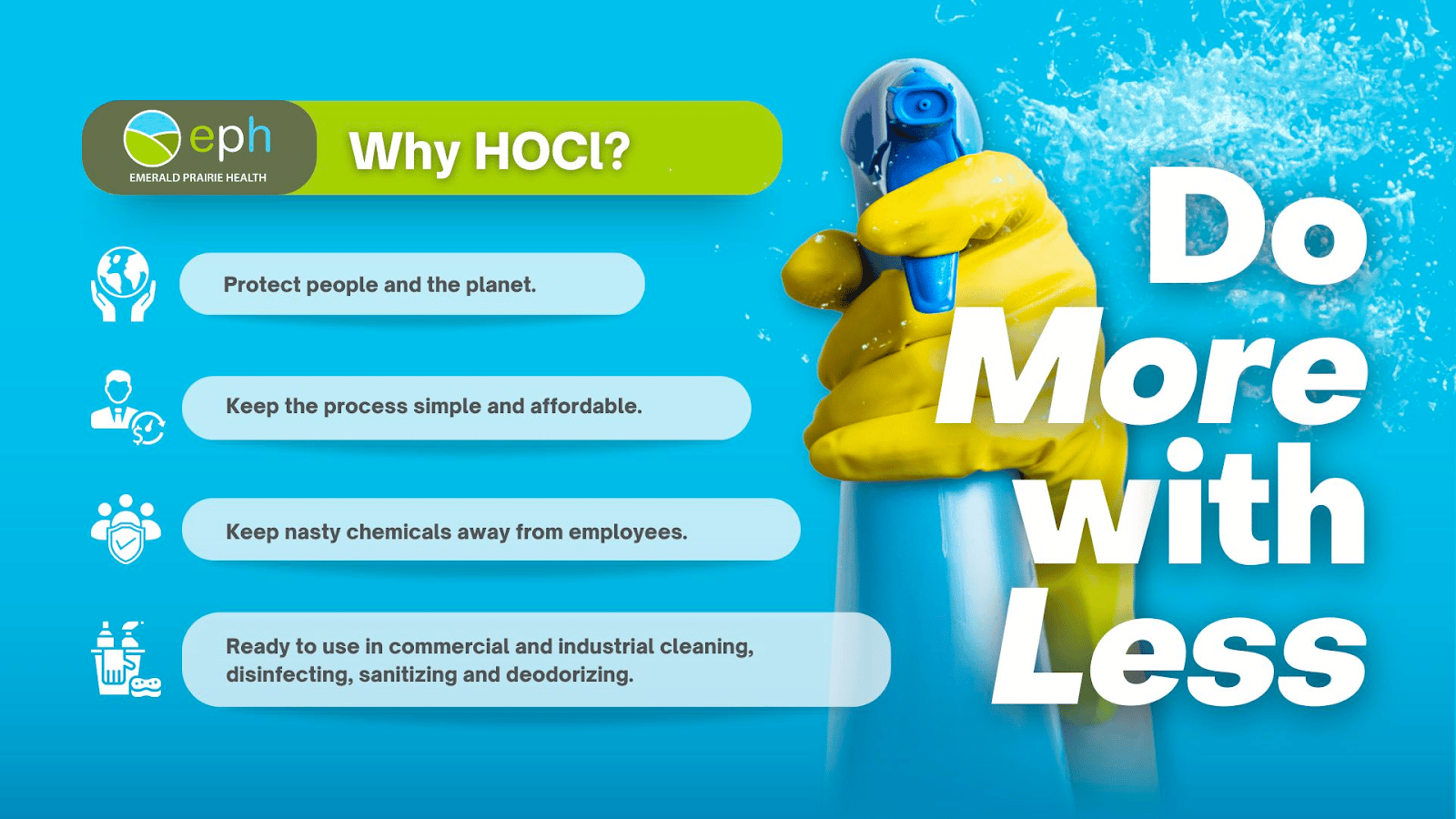 One way industries can comply with federal guidelines to do their part for the environment is to employ a no-dumping policy. Dumping hazardous waste on the ground is usually illegal and can contaminate the soil, groundwater or nearby surface water. Even at-home products may contain toxic substances that are dang
erous to the environment. These products may include household cleaners, motor oil, pesticides, flea collars, some medications, leftover paints and more.
In comparison, the HOCl product manufactured by Emerald Prairie Health is made from simple, common ingredients, meaning it offers a very low environmental impact to produce as the feedstocks are quite easy to procure, store and require little pre-processing. It is a low-concentration, weakly acidic, very near-neutral solution that requires no special transport or storage conditions. It can also be made quickly and efficiently, so that excess or limited volumes are not an issue. 
Using safer options for cleaning is one-way facility managers can promote changes that help the environment.
Sustainability Tips for Hotels and Hospitality 
Guest experience and excellent service have always been priorities for hotels. Now, sustainability is beginning to make its way to the forefront as well. Hospitality Net mentions 10 individual actions the hospitality industry specifically can and should implement to promote sustainability, including the following:
🧩 Reducing food waste
🧩 Investing in the health and education of employees
🧩 Introducing plant-rich menus
🧩 Employing distributed solar rooftops
🧩 Utilizing LED lighting
🧩 Providing charging stations to encourage the use of electric cars
🧩 Installing methane digesters that turn food waste into natural fertilizer
🧩 Recycling their own waste streams
🧩 Using biogases for cooking to shift energy sources from fossil fuels to renewable sources
🧩 Managing nutrients to avoid the overuse of chemical fertilizers that impact future food security
In addition, hotel management can evaluate the products they use to keep these spaces clean as well as their environmental impact. Contact us to learn how to get started with sustainable brand messaging.